I
n case you haven't figured it out, New York City is really "New Nosh City" for Florentina and her relatives. Wednesday's food tourism eventually spilled over into Thursday, moving from one guilty pleasure to another. For a few brief moments, Florentina and cousins thought about how each tasty bite might take us a step higher to the pinnacle of Mount Cholesterol, but after reminding ourselves this was a vacation for them, we gave that up. In this posting I'll be covering twists on my favorite guilty pleasures: candy, pizza, and sushi. (Sushi isn't actually a guilty pleasure, but these days it's as ubiquitous as pizza, if not more so for its lowfat content. N.B.: Florentina dislikes the American tendency to count calories and cholesterol counts, but we cousins are more adult than we used to be, and perhaps more American now, too.)
Two pounds of candies from around Asia.
Look for the pale yellow bits; they're durian flavored.
For the candy category, we have this offering from Mott Street in Chinatown: the Aji Ichiban store near the Church of the Transfiguration. This is where Mott Street takes a sharp turn to the left. I don't quite remember what was there when I was a kid, but when this awesome store opened up a few years ago, I was more than excited. Not only can you get all sorts of sweets, but you can also get little dried fish snacks and rice crackers with seaweed. Cousin Mona was excited to try everything, and they always have samples available. In this two pound bag of candy, I picked up four durian candies; you will see them as the pale yellow candies on the right side of this picture. I have one left, after Joey's Dad had one on the street, and Florentina's mom took two of them. (Arrgh -- the whole kitchen smelled like rotten broccoli while she chewed it!) Don't be fooled by those pale yellow candies masquerading as salt water taffy, to those Americans out there looking at the picture.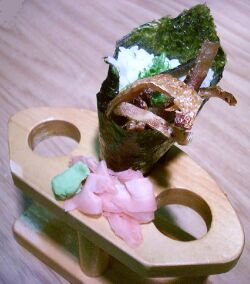 From www.Kanpai Sunset.com.
If I had ordered this,
I would have made sure to have the
whole thing filled with temaki rolls.
This part goes out to my sushi buddy, Lori. For sushi, Joey's Dad and I limped back to Bay Ridge, Brooklyn after a whole day of hanging out in Manhattan. The walk through the arms and armor display in the Met may have taken it out of all of us. We had some sushi at a place around the block and discovered that they did a great job with the salmon skin temaki roll. I adore the salmon skin handroll because it combines two of my favorite things: sushi and a cone (of nori) holding it together. For this piece of awesomeness, the sushi chef has to crisp up a piece of salmon skin to complement the sushi rice.
Light Pizzas. Left: seasoned beef and egg on pita.
Right: Labne cheese, mint, tomatoes and olives on pita.
Sorry! I had originally said the green stuff was basil
in the earlier version of this post.
For pizza, my cousins went to DiFara Pizza in Brooklyn, a famous place that draws crowds. This was a good bookend to their trip to Pepe's Pizza in New Haven, CT on the previous Friday afternoon. While they all had some traditional pizza, Joey's Dad and I tried a new twist on the pizza at
Man'ouChe Restaurant
on Fifth Avenue (between 77th and 78th Streets) in Bay Ridge, Brooklyn. These pretty pitas are called manakeesh and are surprisingly filling. The pita on the right is like a fresh salad on a pita. Definitely lacking the pale orangey grease spot on the paper underneath both of these pitas, unlike a real pizza like the kind my cousins had. But it hit the spot to get some refreshing Lebanese food after some of the heavier lifting of the previous day.
No, no diet in the near future for Florentina. (The words "diet," and "calorie"are akin to nonsense syllables in any of Florentina's languages in use.) Florentina's next major adventure involves visiting Houston at the end of next week. As it's not a known quantity, I hope to see what makes it an interesting destination.